Leveraging Salesforce CPQ to move from a perpetual to a subscription based business model yields scalability gains for growing organizations.
Spatial Business Systems "SBS" offers world-class solutions to improve spatial and design data utilization. Located in Lakewood, CO, the growing organization looked to improving its customer experience by way of unifying their front and back-end teams, providing the right customer information across the business, and creating a seamless purchasing experience.
Together, Neocol and Spatial Business Systems reviewed their Quote-to-Cash process to understand current bottlenecks and process improvements that would prevent the type of scalability they were looking to unlock.
After identifying the ways in which SBS could successfully achieve the pivot from perpetual to subscription business model without disrupting their current customer experience, both Neocol and SBS identified a "crawl-walk-run" approach that was digestible for the business while prioritizing speed to value without putting risk on the business.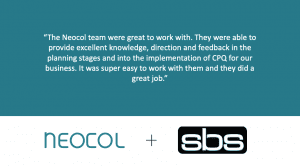 "The Neocol team were great to work with. They were able to provide excellent knowledge, direction and feedback in the planning stages and into the implementation of CPQ for our business. It was super easy to work with them and they did a great job."
To hear more about how Neocol helps subscription businesses scale and grow by leveraging Salesforce CPQ & Billing, proprietary ERP connectors, and more, please get in touch
About Neocol
Neocol helps subscription businesses scale and grow. As a leading Salesforce CPQ & Billing consulting partner, Neocol guides customers on a transformative Quote-to-Cash journey through advisory, implementation, and ongoing success services.