Improve decision making, data accuracy, and business efficiency of your subscription company with Salesforce CPQ & Billing reports.
As subscription companies look to capture aggressive growth, efficient systems and reporting will be key in scalability. In order to take advantage of the booming subscription economy, many subscription organizations will need to rethink their Quote-to-Cash technology stack.
A critical question that many subscription companies will need to answer is, "How do we remain ASC606 compliant and report on only the most critical business measures?" Currently, the most difficult hurdles to overcome to answer that question are:
Deciding what is truly the most impactful data vs. trying to report on

every fine detail

What systems need to be talking to each other to yield that data?
At Neocol, we have worked with our customers to help them answer these questions. With domain expertise in Sales and Finance functions, we help companies visualize their data in one source of truth to drive transformation.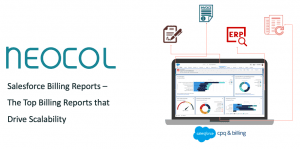 Common reports that we have created for our customers with regards to their Quote to Cash process include (but are not limited to):
Customer Churn - Revenue Loss (not renewing, downgrading, increases in renewals)

Quarterly Invoiced Amounts (total, by new & existing, adjustments)

Deferred Revenue by Contract & SKU (monthly revenue recognition)

Tax Reporting

Invoices by Product, SKU, and Country
Each of these has been key to our customers securing a firm, financial grip on their subscription business. Without them, scalability and aggressive growth targets become difficult to achieve.
To hear more about how we guide subscription companies to report on the right data to drive their business, contact us
About Neocol
Neocol helps subscription businesses scale and grow. As a leading Salesforce CPQ & Billing consulting partner, Neocol guides customers on a transformative Quote-to-Cash journey through advisory, implementation, and ongoing success services.