What is Salesforce CPQ?
Salesforce CPQ stands for Configure, Price, Quote. It is a feature-rich tool that helps businesses automate and streamline sales processes and create customer quotes and proposals. At Neocol, we help subscription management companies gain visibility to their billing, quoting, and renewal processes to drive efficiency and shorter sales cycles. 
Salesforce CPQ Origin & Statistics 
Introduced in 2014, Salesforce CPQ offers subscription management companies tools to manage ongoing billing and renewals and can be configured to meet the specific needs of a business. Businesses can add custom fields or integrate CPQ with other third-party apps for a personalized solution.

When CPQ is deployed and used well, users report:

Up to 10 times faster quote generation

95% reduction in approval time

2x faster move from quote to cash

30% quicker ramp for new reps
5 Benefits of Salesforce CPQ for Subscription Management Companies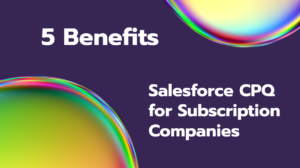 1) Improved Efficiency
Salesforce CPQ automates the steps in creating quotes and proposals, freeing up sales teams to do what they do best: sell. By automating tasks, CPQ accelerates the sales processes and reduces the likelihood of errors. 
2) Increased Accuracy
CPQ automates pricing and quoting processes and helps with accuracy and consistency issues, reducing the risk of missed opportunities because of incorrect pricing. 
3) Better Customer Experience
Salesforce CPQ can bring customers a consistent and easy-to-follow experience with visually attractive quotes, proposals, and clear instructions. 
4) Enhanced Subscription Management
CPQ allows companies to manage ongoing billing and subscription renewals, including automatic billing setup and auto-reminders for customers. These features can help subscription management businesses reduce churn and retain hard-won customers. 
5) Flexible Integration 
Salesforce CPQ can integrate with billing and customer relationship management (CRM) tools. Integrating CPQ with other systems lets you gain a 360-degree view of your customers, identify friction, and deliver smooth sales and renewal experiences. 
Salesforce CPQ Features for Subscription Management Companies 
Subscription management companies can benefit from Salesforce CPQ's multiple features and capabilities, which include:
Quote Automation

Guided Selling

Product Configuration

Contract Management 

Pricing Optimization

Proposal Generation

Bundle Pricing

Discount Management

Subscription Billing

Upsell and Cross-Sell 
Implementing Salesforce CPQ: Problems, Benefits, and Solutions 
At Neocol, we help subscription management companies set up guided quoting processes with controls to enable accuracy, flexibility, and end-to-end efficiency. 
Problems Salesforce CPQ can help your business solve:
Highly manual and inefficient processes that negatively impact sales teams' ability to focus on high-value interactions.

Lengthy and delayed sales cycles that lead to frustrated customers and prospects.

Quality control issues from a lack of validation and automation in the quoting process. 
Implementing Salesforce CPQ, Billing, and Sales Cloud Benefits
With our expertise in subscription management and Salesforce, we can help your company: 
Enable real-time pricing and discounting for guided selling for accurate quote creation

Generate and execute contracts for electronic signatures

Configure rules and controls around what a sales rep can quote

Implement an auto-approval process for discounts, billing terms, and frequency based on predefined criteria

Create a guided quoting process via wizards and step-by-step displays
Salesforce CPQ Best Practices
If you're considering implementing Salesforce CPQ for your business, it's vital to:
Identify key stakeholders and involve them in the planning process

– This ensures CPQ implementation meets the teams' needs in the sales experience. This could include Sales, Marketing, Customer Success, among others.

Develop a clear implementation plan

– This helps keep your project on track and within budget. 

Do an assessment

– This will help pinpoint the specific features and capabilities you need in Salesforce CPQ and guide how you configure and customize your system.

Define roles and responsibilities

– This helps team members know what's expected of them as they work together toward a common goal. 

Test and validate

– Before going live, test your system to ensure it's working as intended and that your users know how to use it. 

Provide ongoing training and support

– To ensure your users get the total value of CPQ and have support when they run into an issue, it's essential to provide quality training. 

Monitor and optimize

– Keeping track of your CPQ solution enables you to enhance it for your business and customers. 

Integrate CPQ and CRM

– This enables your business to gain a comprehensive view of your customers, their activity, purchases, and subscriptions, allowing you to:
Sync customer product data

Link quotes and proposals to customer records

Enable self-service features like auto-renewals

Reducing errors so that when a quote is created, it becomes an order. 

Help sales teams provide a personalized experience by getting a single view of each customer. 
Related Reading