Neocol, expert in advising the world's most innovative B2B organizations on how to optimize their subscription management and billing processes, has added quote-to-cash industry veteran Shane Anastasi to provide thought leadership, experience, and guidance necessary to accelerate growth.
"We couldn't be more excited to have Shane as part of the Neocol team and leading in this capacity" said CEO and Founder Ryan Lott. "He has an incredible breadth of expertise in both professional services and the quote-to-cash industry. It is exactly the type of experience we need to ensure that our world class delivery team and industry solutions scale as our organization heads into a triple-digit growth year."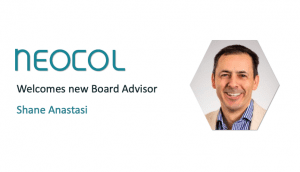 Shane is a tenured and successful software & professional services Executive, speaker, author, and software entrepreneur. Having worked around the world for giants such as IBM, SingTel, and Salesforce as well as played significant leadership roles in successful startups like Vignette, BigMachines, Simplus, and CirrusOne Shane's experience will provide innovation and scalability for Neocol.
"I'm honored to be added to the Neocol advisory board" Said Board Advisor Shane Anastasi. "I've been impressed with the entire team's drive to deliver world-class project leadership and looking forward to helping them continue their upward trajectory."
About Neocol
Neocol helps subscription companies scale and grow. As a leading Salesforce CPQ & Billing consulting partner, Neocol guides customers on a transformative Quote-to-Cash journey through advisory, implementation, and ongoing success services.