At Neocol, we help subscription businesses scale and grow. But, bringing "Quote-to-Cash" from theory to practice can be a difficult transition for a lot of companies to make. Yet, the argument to create this change is compelling:
Unifying the front and back office can create a more holistic view of the customer, increase transparency across the organization, and even unlock future revenue potential

Access to critical information yielding massive productivity gains. Constructed the right way, information can be shared across the business that allows the right employees access to the right information to do their jobs without having to jump through hoops, "swivel seat", send emails, and schedule redundant meetings.

Streamlining your most critical business process removes the time consumed and the errors created via manual work. In a world that is increasingly more compliant, executive management teams must be certain that their systems are accurate.
While the benefits are obvious, making the transformation can feel daunting to many organizations as they ask themselves questions like:
How will the integration work?

What if the integration fails?

How do we make sure that only sales & finance see what they absolutely need to see and nothing more?

How do we actually get the information flowing properly into Salesforce so that we can visualize invoicing, payment, and revenue related data?

How do we decide what the ERP should do vs. what Salesforce Billing should do?
We created NeoFyi to help our customers answer these questions with confidence and drive the type of change in their business that enables them to innovate the way they sell, serve, and collect.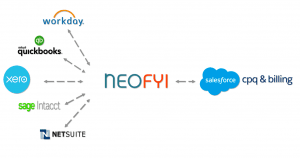 NeoFyi is a tool that connects Salesforce CPQ & Billing to NetSuite, SAP, Workday, QuickBooks, Sage Intacct, and Xero. It also comes as a managed service so that each of our clients know that their most critical integrations and business processes are in the right hands.
To get in touch and hear more about our success stories, get in touch!