Riskalyze Moves to Salesforce Billing & CPQ and Sets Team Up for Success with Neocol

Riskalyze is a fintech company that provides SaaS solutions to financial advisors. It is revolutionizing the advisory sector with its technology that provides a numerical assessment of a customer's risk tolerance, which advisors can use to acquire new customers, meet and document requirements, and qualify clients.
Key Results
✔️Migrated in days, not weeks
✔️Project CSAT Score: 4.9/5
✔️Neocol onboarded and trained Riskalyze teams to succeed
✔️ 98%+ accuracy in Zuora to Salesforce Billing & CPQ data migration
Salesforce Solutions Implemented 
Salesforce CPQ

Salesforce Billing
Course-Correcting a Failed Implementation 
Riskalyze was reeling from the issues caused by their previous implementation partner. As a result, they were behind schedule and needed a partner to lead their Zuora to Salesforce Billing & CPQ data migration. 
Furthermore, they sought a partner who could standardize business processes to streamline operations and address the data issues caused by their Zuora system. Lastly, they wanted to implement Stripe as their payment gateway for customer payments.
Salvaging Technical Debt
Despite the challenges, Riskalyze faced in their earlier engagement, Neocol, a Salesforce Summit partner who specializes in helping B2B businesses optimize their subscription management and billing processes, was able to finalize the migration with a 98% plus accuracy.  
Training Teams for CPQ Success 
We helped the Riskalyze team, who had no prior Salesforce CPQ or Billing experience, familiarize themselves with the new system and learn how to use it like pros to ensure productivity and long-term adoption. 
Moreover, we delivered more features than their previous solution, giving them a more robust business system for fast-moving customer needs.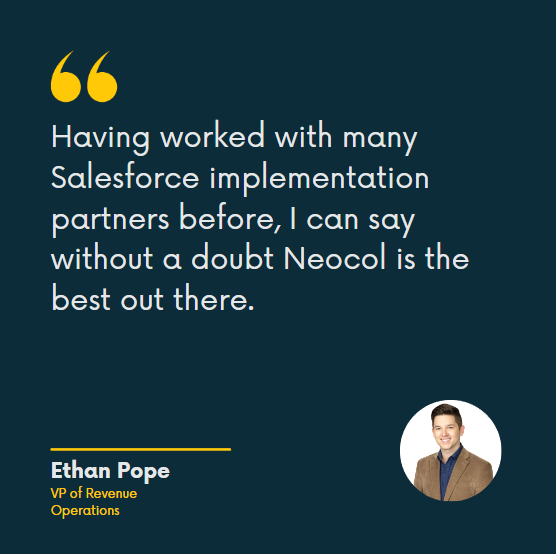 "Having worked with many Salesforce implementation partners before, I can say without a doubt Neocol is the best out there." - Ethan Pope, VP of Revenue Operations

Improving Processes and Streamlining Business 
As a part of the Zuora to Salesforce Billing and CPQ migration, we analyzed and updated Riskalyze's system to remove SOQL (Salesforce Object Query Language)  errors and improve their process flows. Additionally, we removed redundant and unnecessary background processes that were causing processing slowdowns. 
Most importantly, we created a standard process to migrate Zuora data into Salesforce in days, not weeks, getting the Riskalyze team trained and ready to deliver the stellar experiences their customers have come to expect. 
Ready to migrate off Zuora to Salesforce Billing and CPQ?
Get in touch with a Neocol data migration expert.