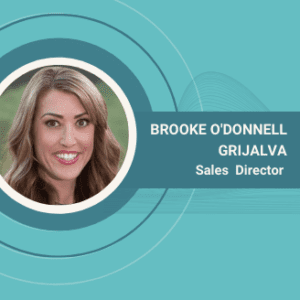 We carry through Women's History Month by recognizing some of our fantastic team.
Brooke O'Donnell Grijalva: An Invitation to a New Career Path
Brooke O'Donnell Grijalva, Sales Director, is proud to have contributed to Neocol's Westcoast expansion by growing client relationships in a space that Neocol excels at. "We've stayed true to what we do best, Revenue Lifecycle Management in the SaaS and consumption model space."
The Neocol team has mastered this expertise, generating referenceable customers, which is a big differentiator. This laser focus helps position Neocol as an organization that clients can trust, which drew Brooke to join the team after interviewing with other companies in the space." I believe in what we provide because we successfully execute. That is of utmost importance to me as a salesperson." 
An essential part of her day-to-day is collaborating with the internal solution engineers and the delivery team to maintain alignment. She describes these teams as talented with proven expertise critical to the success of the overall solution and future opportunities. "This team is the best. I love that we are dedicated to our customers and project success." 
"Brooke is universally loved by clients, partners, and staff," said Jennifer Meehan, Senior Vice President of Revenue Lifecycle Management. "We all love being around her."
 She describes her role as helping companies solve critical business challenges through process improvement coupled with Salesforce technology. In more detail, her role involves engaging with client projects, managing current opportunities, generating new business, and communicating with Salesforce partners. Even landing an opportunity already in flight with a competitor who couldn't execute on a complex Zuora migration. 
Brooke has been in the Salesforce ecosystem for more than 10 years. It all started after her roommate extended an invitation to a Salesforce event. After working at Salesforce directly for several years, she moved to Salesforce Consulting. She utilized her former role in news reporting interview skills to better understand and qualify her clients. She enjoyed that prospective clients were open about their needs and challenges. They knew the right partner would be the key to their software success.
 It's not the Oscars E Entertainment red carpet reporting she once dreamed of. Still, she says, "I would never have envisioned this for myself, but I love what I do. This career continues to stretch me in new ways. I work with the brightest people in the business that I learn from daily. We have the best customers that entrust us with truly transformational projects."