Salesforce describes Genie as a "real-time platform for customer magic." On the surface, Salesforce Genie may look like another Customer Data Platform (CDP), but it's more.
What is a Customer Data Platform? 
Customer data platforms (CDPs) are marketing tools that bring fragmented data into a single view. Salesforce Genie is different because it funnels dynamic, real-time data into Customer 360. Genie is often referred to as Salesforce Customer Data Cloud. Genie is also powered by CRM analytics (Tableau), a business intelligence and analytics that gives users easy insight into customer data.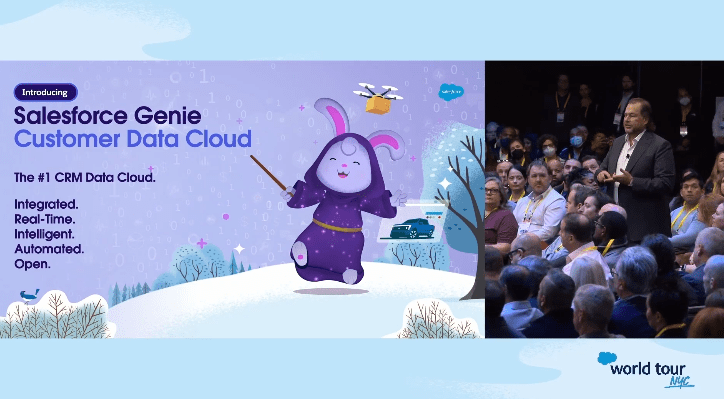 Salesforce 360 
Salesforce Customer 360 is a multi-cloud or holistic approach to sales, service, marketing, commerce, IT, and analytics.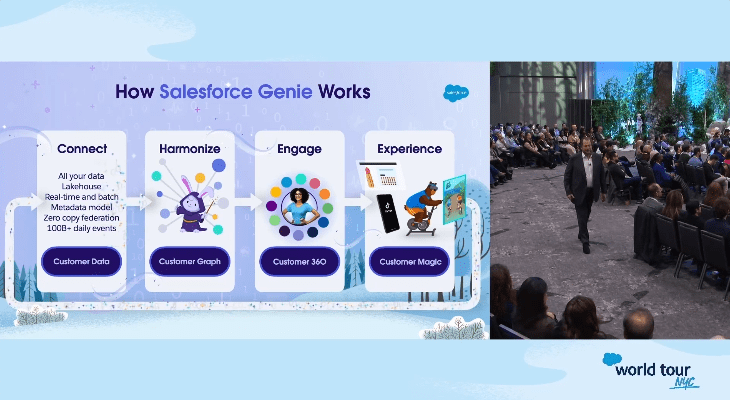 Source: Salesforce
In other words, Salesforce's CDP consolidates these systems and gives teams access to unified data. As a result, it creates a high-clarity single view that enables businesses to make informed decisions, proactively respond to customer needs, and identify new revenue streams. 
Salesforce Genie offers a unified customer profile, dynamic insights, and automated workflows that adapt as new data comes in. 
How Salesforce Genie Works 
Salesforce Genie harmonizes your data streams into a single customer profile — no matter where the data came from or how it was labeled.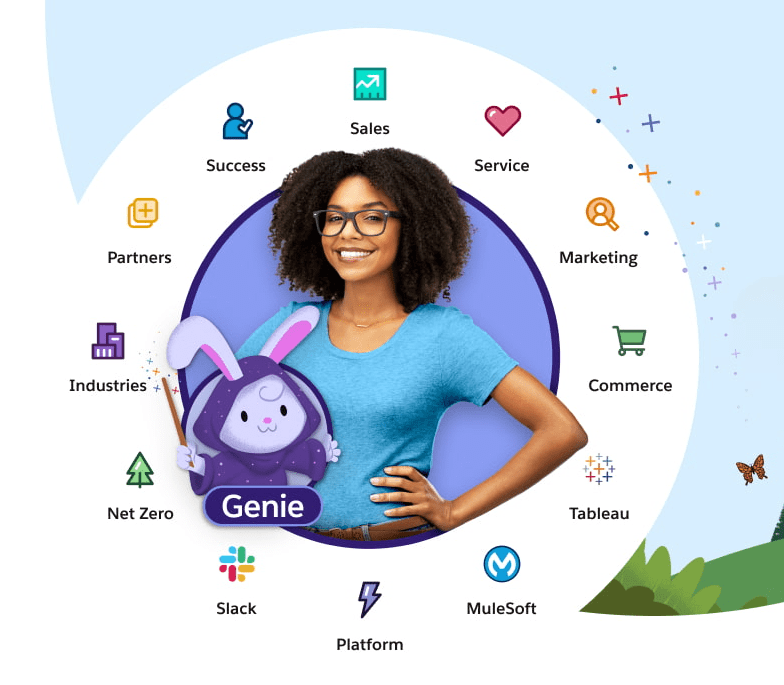 The CDP uses a lakehouse architecture to consolidate a customer's anonymous and known interactions with your business into a single profile. With real-time data updates, your business can create hyper-personalized and relevant experiences at any customer journey stage. 
What Problems Can CDPs Solve for Businesses? 
Customer Data Platforms (CDPs) can help businesses solve several problems related to managing customer data, such as: 
Siloed customer data: Customer data is often stored in separate systems, making it difficult to get a complete and accurate view of each customer. CDPs can help businesses unify customer data in a single platform.
Inaccurate or incomplete customer data: Customer data can become outdated or incomplete over time, leading to poor personalization and targeting of marketing campaigns. CDPs can help businesses clean and enrich their customer data to ensure it is accurate and complete. Salesforce Genie updates data in real time, allowing for unprecedented personalization and insight into each customer's journey. 
Lack of insights into customer behavior: With CDP, businesses may gain a deep understanding of their customers and how they interact with the business. CDPs offer detailed dashboards and visualizations to help teams analyze data and launch an action plan faster. 
Poor personalization and targeting: With CDP, businesses can create targeted marketing campaigns that deliver relevant customer experiences. CDP enriches a brand's ability to segment customer data and create one-to-one customer experiences. 
What are the Benefits of a CDP like Salesforce Genie?
Customer Data Platforms have increased in popularity over the last decade because they can help brands: 
Improve customer experiences: A single view of customer data allows you to deliver more personalized and relevant experiences to your customers.
Drive more impactful marketing campaigns: CDPs help marketers create highly-targeted campaigns based on demographic, psychographic, and behavioral segmentation. 
Increase efficiency: CDPs like Salesforce Genie can automate collecting, storing, and managing customer data, freeing up your precious time and resources. 
Enhance data quality: Improve the accuracy and completeness of your customer data with built-in data cleansing and enrichment tools. 
Gain deeper customer insights: CDP can help brands gain a deeper understanding of their through analytics and visualization tools that make it easier to interpret customer behaviors and preferences. 
Improve ROI: CDPs help companies increase revenue and improve ROI by delivering more targeted marketing campaigns and personalized customer experiences.
Product-Led Growth (PLG) Strategy: Most companies have a PLG strategy. The easiest way to enable that strategy is through CDP by utilizing the insights and automation in concert with your product to create meaningful calls to action, enhanced user experience, and increased upsell opportunities.
How to Choose a Salesforce CDP Implementation Partner
Interested in learning more about how to get a single view of your customers across Salesforce clouds? You'll want to speak with an implementation partner with the expertise to map your goals, navigate large or complex data environments, and has experience delivering successful implementations. 
Look for a partner with clear communication skills that can explain the CDP implementation process and answer your technical questions. 
You'll also want to seek customer references and case studies to get a sense of their track record. 
Lastly, seek a partner that won't abandon you when implementation is complete. Instead, look for one who provides ongoing support and maintenance to ensure your CDP is optimized and continues to deliver your desired outcomes. 
Work with Us

At Neocol, our team has 290+ certifications, a 4.9/5 customer satisfaction rating, and the most successful Salesforce Billing go-lives. 
Get in touch to discuss your CDP goals and what we can do to help.