Increasing technology costs are top of mind for virtually every company right now. However, despite economic headwinds, CIOs are still accelerating the shift to the cloud. 
Gartner forecasted a 3% growth in IT spending in 2022, and it appears spending was consistent with predictions.
Little wonder, since the cloud provides scalability without massive investments in infrastructure. Cost savings are also achieved by eliminating the need for hardware that is becoming more expensive due to inflation and supply chain shortages.
More importantly, Salesforce (and cloud solutions like it) help reduce IT complexity, minimizing the number of systems and applications organizations need to manage. 
Salesforce 360 provides a comprehensive view of subscription management customers, allowing teams to make better decisions. In addition, Salesforce enables teams to take proactive steps to remove friction, answer customer questions, personalize their buying experiences, and identify early warning signs of churn. 
Why Inflation is Making It Harder for Subscription Management Companies to Grow
After an extended period of economic growth, low unemployment, and low-interest rates, inflation is at its highest in forty years for many industries.
How did we get here? 
Geopolitical events

Supply chain pressures

An extended pandemic

Relatively low unemployment rates 

Volatile food and energy prices

Rising shelter costs 
We won't get into the theory of cause and effect that has resulted in a real inflationary impact across all industries across the globe — but virtually everyone is feeling the pressure of increasing costs, and this has caused companies to pay closer attention to expenditure. 
How Subscription Management Companies Can Adapt
Severe economic headwinds are making it increasingly difficult for subscription companies to scale and grow following the recent period of high growth. 
In moments like these, subscription management can take advantage of a cyclist's mentality: If strong winds are forecast, plan your route to minimize their effects. Rather than riding on an exposed road into the wind, look for an alternative, more sheltered route.
Implement Salesforce Revenue Cloud
Neocol and Salesforce Revenue Cloud have alternative routes and suggestions that organizations can implement to minimize the difficulty ahead. 
Scalability and automation are the names of the game.
To combat the impacts of inflation, subscription management companies can implement pricing strategies to account for market shifts. These strategies include dynamic pricing models and usage-based pricing. 
Salesforce Revenue Cloud enables you to automate and optimize pricing decisions. Moreover, this cloud opens the door to new revenue streams, allowing your organization to add services or expand into new markets and diversify your profit flows— mitigating the impact of inflation. 
How Salesforce Revenue Cloud Can Automate and Optimize Pricing Decisions
Salesforce CPQ 
Salesforce CPQ (Configure, Price, Quote) enables you to automate your pricing and quoting processes for your products and services. 
Salesforce CPQ works with your CRM platform, ERPs, and other technologies for better data integration and accuracy. 
The quotes you build in CPQ are automated, based on pre-set rules, ensuring accurate pricing, which accounts for discounts, customization, and optional product features. 
Salesforce Billing 
Implement Salesforce Billing and integrate it with Salesforce CPQ. Salesforce Billing is an add-on that picks up key records and data from Salesforce CPQ. 
After a sales rep finalizes and orders a quote within CPQ, Salesforce Billing inherits the order for invoicing, payment, and recognition, creating a seamless process between both systems. This gives teams unmatched visibility into quoting, pricing, and revenue recognition flows. 
Salesforce Billing also offers robust tracking and reporting for subscription management companies and provides revenue recognition reports.
Salesforce Einstein 
For intelligent insights, subscription management companies can implement Salesforce Einstein. This intelligence solution helps your company speed up decision-making throughout the sales cycle. 
Once implemented, you can use Einstein to analyze customer data across Salesforce clouds and identify trends to make more intelligent pricing decisions. You can also use the AI's prediction capabilities to forecast demand. 
Einstein has other valuable features, including solutions that enable your business to analyze customer reviews, videos, and voice data to capture their sentiment and preferences. 
Taking this treasure trove of data insights, companies can adjust their pricing strategies and create products and services that customers want — a handy capability in volatile and uncertain markets. 
Salesforce Revenue Cloud Use Cases 
While this list of use cases is by no means exhaustive, it shows how to implement Salesforce Revenue Cloud and use it to shift and adapt your subscription management strategies in challenging times. 
This flexibility is also helpful during periods of growth because it allows you to pivot as consumer behaviors and markets shift, boosting your profitability by creating products, services, and pricing that reflect real-time consumer behaviors. 
Standardized Contract Language for Price Increases
Sales teams are motivated to make sales with as little friction as possible. So, make it easy for the sales team to close contracts with standardized price increase language and a seamless process for approvals. Automate these in your Salesforce Revenue Cloud instance and reduce the manual effort needed to increase prices across the board.
Automate Price Increases Upon Renewal
Automate the price increase on renewals generated directly in Salesforce without the sales rep having to manipulate (or worse, manually, remember the terms for) the renewal opportunity. Start with strong contract language like "Prices may be increased by no more than the lesser of 3% of the change in the Consumer Price Index (CPI) per year, subject to a minimum 30 days' notice of the renewal price increases". From there, capture the baseline CPI upon contract signature and automate the uplift within the system.
Reconsider Evergreen Contracts
Evergreen contracts are usually a low-touch process by the renewals team. Unlike term contracts, evergreen contracts do not renew. Therefore, a contract amendment can only generate pricing increases on evergreen contracts. To allow for smoother price increases, rethink your evergreen strategy using term contracts where you can automate the CPI uplift more seamlessly.
Negotiate Renewals with Impactful Data
Data-driven negotiations can be robust for high-growth subscription companies. Use the data in Salesforce Revenue Cloud to holistically assess the ARR / MRR of the account, ascertain which products your customer was subscribed to when they last had an increase, by how much, and the current list price of a similar product set. With this data, your sales reps can unlock data-driven negotiations to help make a stronger case and higher close rate of price-increased renewals. 
Future-Proofing Subscription Management Companies 
The unknown can be scary for consumers and businesses when facing economic strife.
However, ensuring your business is pairing the right resources and technology with the right partners can be the difference between scaling and growing versus setbacks and cutbacks. 
At Neocol, we've helped 200+ high-growth technology and subscription companies scale and grow for over eighteen years. During that time, the state of the global economy has drastically fluctuated.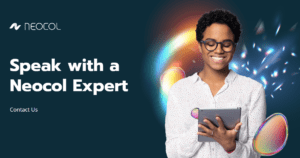 We have harvested best practices, created new and innovative technology solutions, and partnered closely with our customers to help them see around corners and manage forecasted and unforeseen challenges on their route to scale. 
Speak with a Neocol Revenue Cloud Expert 
If you are interested in learning more about the solutions mentioned above or have other inflation-related challenges to discuss, get in touch so that we can help keep your business on the right path.
About the Author: David Holstein has been with Neocol since 2018 and is the company's Chief Revenue Officer. He has worked in the Salesforce ecosystem for over eight years, helping companies scale and grow by unlocking the full potential of their Salesforce CRM platform.