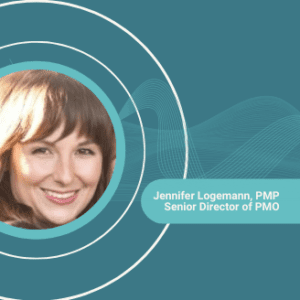 We salute Women's History Month by spotlighting some of our tremendous team.
Jennifer Logemann: A little Old Dominion with Cheese Enchiladas
Jennifer Logemann, PMP, Senior Director, PMO, is a dependable, results-driven team leader who elevates her team to improve efficiency and client satisfaction, exemplifying Neocol's core values. 
"Her collaboration and trust help bridge the gap between sales and delivery in multiple projects and channels," said David Holstein, Chief Revenue Officer. "She shows poise and grace that has significantly kept all teams aligned."  
Jen was recruited to Neocol more than 10 months ago and has made great strides in launching a professional sales automation tool to schedule projects and resources accordingly. She says this is her proudest Neocol achievement to date. 
How does Jen describe her job to her 7-year-old daughter, Aili? "I help coordinate people and their work to align with a schedule in order to help them deliver better business processes for our clients."
Jen, a self-described type-A personality, possesses 10 years of project management and delivery experience, with seven years focused on Salesforce. She enjoys learning, earning her Salesforce Certified Sales Cloud Consultant, CPQ Specialist, Community Cloud, and Administrator, in addition to achieving her PMP.    
In her spare time she enjoys eating Amy's Cheese Enchiladas, "seriously, can you tag them or something because I eat them all the time, " -  running with her dogs Max, a 9-year-old mix breed, and Odie, a 2-year-old red golden retriever, and volunteering. 
Growing up in a household that believed in giving back, Jen has continued the tradition of giving over the last three years with Kids Impact Community. An organization that models acts of kindness throughout the Milwaukee community by offering opportunities to volunteer with your child. Jen has also used her technical skills to help set up their giving systems. 
If Jen wasn't so darn good in her current career, her dream job would be as a music producer in Nashville. She is a big fan of Nashville favorite Old Dominion. Jen and her husband, Matt, find their music incredibly uplifting, traveling throughout the country to see the band perform, which resulted in the pair forming many new friendships through this shared interest. Her favorite place to see them perform has been at Red Rocks in Colorado. 
"I go where the good people are." This statement rings true from the members that make up Old Dominion to the people she currently works with. She describes her job as fun and collaborative because her colleagues are hard-working, smart, and innovative. "We are kind people, and we care about our clients' success." 
Jen is excited about the future of Neocol. "We're growing and with growth comes the ability to provide input and change. There is so much I want to work on."