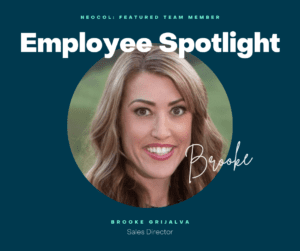 Employee Spotlight: Meet Brooke Grijalva
"Who says you can't have fun at work?  I love what I do.  I love who I get to work with and I love helping our clients solve their business challenges through process and technology improvements. "
Brooke is a Sales Director who has been a part of Neocol since May 2021. In that time, Brooke has expanded Neocol's presence in the west and helped foster key partnerships with clients and Salesforce alike. 
Brooke was introduced to the Salesforce ecosystem in 2007 after moving to San Francisco from Orange County, CA, she immediately embraced the Salesforce Ohana mentality and never looked back.  
"I was working as a Salesperson in IT Staffing when I transferred to San Francisco and moved in with a few roommates, one of which worked at Salesforce.  I went to a few events with her, saw the volunteer work she participated in with her team, and witnessed just how much she enjoyed her job.  She referred me and after a rigorous interview process, I got the job as an Account Executive!  It was an amazing organization to work for.  When I moved back to Orange County after my time at Salesforce, I made the transition to Salesforce Consulting.  Consulting felt like such a natural move for me.  I love learning about new businesses and helping support them as we solve complex business problems to allow them to scale and grow."
Brooke came to Neocol after close to 10 years in Salesforce Consulting.  
"I was ready for my next move and wanted to join a growing organization that I could contribute my sales and account management experience to.  After interviewing at several organizations, I decided to join Neocol because their core values aligned with mine.  I appreciated the focus that Neocol has on Revenue Lifecycle Management for high-growth subscription and consumption organizations.  You also can't argue with proven success.  Having referenceable customers that were willing to speak about their experience working with us was also a top priority for me.  As a salesperson, I have to feel good that we can deliver on what I'm selling and I feel that here.  Neocol is committed to customer and employee success".  
Outside of Neocol, Brooke enjoys working out, golfing with her husband, David, and swimming with her daughters Blakely (6) and Bristol (4).  
"Being a mom is a privilege that I'm so grateful for.  Being a mother to two little girls is also a responsibility that I don't take lightly.  I always want to be a role model to them.  I hope to set the example that they can pursue their passions, whatever that looks like, in harmony with relationships and children, if that's what they choose.  I also try to teach them grace- for me, themselves, and others because we are all constantly learning and evolving". 
Brooke was selected as our August employee of the month for being an exemplary steward of our Neocol CORE Values, putting them into practice each day. Whether it is her direct responsibilities or additional passion projects and / or "Rocks" that she takes on, her display of #Creativity, #Collaboration, #Trust, #Ownership, and #Passion is on display consistently.
"Brooke is an outstanding role model to other trailblazing women in the workplace, she leads the Ladies+ League at Neocol with a mission to help other women in the workforce rise, be the best version of themselves, thrive, and own their career paths. She is first to give credit to the rest of her team before accepting accolades for herself, showing the true meaning of teamwork and leadership."
As part of our #EmployeeSpotlight, our awardees get to choose a charity of their choice for a donation to be made in their name, Brooke chose to donate to the Tim Tebow Foundation for the work they do to rescue, protect and rehabilitate victims of human trafficking.