Subscription management is an organization's ability to create a compelling product offering — something that is valuable and differentiated in the market— which will entice prospective customers.
But subscription management is more than just enticing consumers to become subscribers. It's about finding ways to continuously retain and delight those customers.
Table of Contents
Subscription Management and Customer Experience
Customer experience is at the core of a successful subscription management strategy. If you're not sure about what it takes to become a successful subscription management company, ask yourself (and your team) the following questions:
How do you allow customers to find content that fulfills their needs? Do they need to get in touch with someone? Can they access self-service features?
How do you meet your customers where they want to be met — and across multiple channels — without creating a fragmented experience?
How do you make it easy to purchase, renew, and add offerings?
How do you make it easy for customers to do business with your organization?
Subscription Management Examples
The subscription management process can come from a variety of channels.
Sales Lead: Let's say a salesperson reaches out to you as a potential customer. They build a good relationship with you, and you decide that you trust them because they have shown how their solution helps your business. So you become a subscriber.
Community/Influencer: In this scenario, you have a colleague who is using a tool to do their job more efficiently. Impressed by their success, you try the tool and see similar results. From there, the technology snowballs and before you know it, several teams are using the product. The right subscription management technology can help a sales or customer service representative see an uptick in usage and work with your company to create an enterprise-level agreement.
Partner Channels: Imagine you're a Salesforce customer. You're happy with your solution but work with a partner (like us) to uncover opportunities to cut costs and increase revenue. You decide to add Salesforce technologies to enhance your customer and employee experience.
Subscription Models Origin & Evolution
Subscription models have been around for centuries. For example, in the UK, people could subscribe to milk deliveries as early as the 1860s — while magazine subscription services kicked off at the end of the 19th century.
Automated and customized subscription models as we know them today were pioneered by the high-tech industry and are evolving with next-generation technologies, connected data, and predictive systems.
We're beginning to see them in healthcare, financial services, and manufacturing.
Subscription Model Benefits
Where effective subscription management models are implemented, they offer opportunities to create new revenue streams. These models can also help organizations to be more adaptable to market shifts and recessions.
However, to create long-lasting and repeat journeys, you need the right capabilities and technology to deliver valuable experiences across every touchpoint of each customer's lifecycle.
Beyond that, you need to be able to model and monitor the results to understand what customers value and care about across every touchpoint, no matter if the customer is engaging with sales, customer service, finance, or marketing.
🔭Gain a 360-degree view
Stitching together customer interactions and historical behavior gives companies a robust story of what a customer cares about. As a result of this increased visibility, it allows your business to become more responsive.
The right subscription management model and technologies can also help you prioritize investments, reveal friction, and inspire innovation.
💎Subscribers are valuable.
You don't want to lose them, so you want to tap into technology and domain expertise that drives customers to purchase more and that, ultimately, will drive business. Because the alternative — losing customers — is expensive.
👂Listen to your customers.
Successful subscription management comes with the ability to listen to customer feedback and thereby have the data available to allow you to make informed decisions about where to invest so as to delight and engage those customers. Making data-backed decisions will result in the development of new product offerings and services, driving purchases and leading to even more revenue.
Remove friction
Friction is kryptonite to a smooth customer experience. Intelligent and proactive subscription management systems can dramatically reduce snafus, miscommunication, and much of the frustration customers experience as a result of how organizations manage their customers.
🏈The Handoff (aka the Departmental Fumble)
Marketing generates a lead (hooray!).
Suddenly, marketing has no clue which sales rep picked up the lead.
No idea when the lead closes.
Downstream, other departments don't know where the lead came from — was it marketing or sales?
A customer gets billed.
The customer might have a question about a charge but they don't know where to go to have their issue resolved. In reality, it's a minor question, but the customer jumps on a call and is frustrated because they can't find what they're looking for — a problem that could have easily been avoided with a self-service knowledge base or an automated chatbot designed to rectify the problem based on the customer's subscription level or issue.
Salesforce for Subscription Management
To keep your customers, their entire journey must be seamless and engaging. The same applies to your employees. The best way to ensure seamless and meaningful interactions is through the right set of systems and processes.
Known primarily as a CRM, Salesforce is so much more. Rather, it is a multi-cloud ecosystem that takes fragmented customer experiences and stitches them together.
From Experience Cloud to Marketing Cloud to Sales Cloud and CPQ, Salesforce has persona-specific tools that enable each team to do their best work, and it also has the remarkable ability to share data and insights within those interconnected systems.
How to Create a World-Class Subscription Management Strategy
At Neocol, we don't just treat symptoms.
Our team looks at the root cause of a problem and works with you to solve it.
We apply years of domain expertise and knowledge of the Salesforce ecosystem to build exceptional subscription models that drive loyalty and revenue.
3 Customer Experience Statistics that Make the Case for Subscription Management
If you're still on the fence about investing in the technology and processes around customer and employee experiences, consider these statistics:
Brands offering superior customer experiences see 5.7 times more revenue.
Customer-centric companies are 60% more profitable than those without a customer focus
Loyal customers are 5 times more likely to purchase again and 4 times more likely to refer someone.
Source: Forbes
We've helped companies scale and grow their subscription business with Salesforce.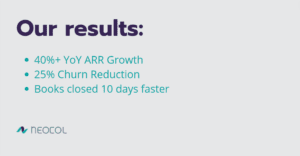 Our results speak for themselves:
40%+ YoY ARR Growth
25% Churn Reduction
Books closed 10 days faster
Learn More About Subscription Management Services
Reach out to us for a personalized information session.
Related Articles: