Remember the heyday of Zoom? After the world shut down in 2020, video calls were the most convenient way to stay connected with friends and family.
The pandemic drastically changed our everyday lives, but Zoom provided us with a way to keep in touch. We used it to celebrate birthdays and holidays virtually, to chat with friends, and take on new hobbies (sourdough starter, anyone?)
However, some users were hesitant to purchase the full version of the app right away. All were welcome to use the free version of Zoom, but the main issue was the timer—after 40 minutes, the app would kick you off.
What is Product-Led Growth?
A key element of a product-led growth model is giving users a diluted but useful version of a product at no cost—the goal is to get them to find your product so valuable that they want to upgrade to the features behind the paywall. 
In the Zoom example, when 40 minutes is up, everyone is booted out of the meeting to appreciate the full value of the product. 
Imagine you're in the middle of a riveting conversation or a rousing round of Cards Against Humanity when you're mid-sentence and faced with a dead screen. And getting everyone back on again just to say goodbye was inconvenient and slow and usually just too hard.
Zoom knew that once people started to use their product, they would see how valuable it was and wouldn't want to go back to working around the free version. So, they allowed customers to experience the product's value for themselves, effectively converting them. 
An Example of Product-Led Growth
Sometimes, you'll find users with personal licenses to a product. Let's use Lucid Chart, a collaborative web-based drawing app, in this example.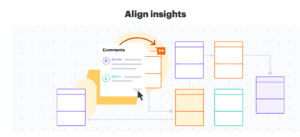 Your company doesn't have an enterprise license, but you have a few dedicated users with personal licenses. Those people work with their colleagues and show them the product's value, which gets them to sign up. 
With the right software in place, a rep within Lucid Chart recognizes that there are 10+ people with personal Lucid Chart accounts, all from the same company. 
As a result, the rep recognizes an opportunity to offer the organization an enterprise-level deal. One that costs less per person but creates a more predictable revenue stream. 
Product Led-Growth Strategy
Product-led growth focuses on making something so intuitive and straightforward to use that customers find it irreplaceable. This is usually done by providing a free version of the product to give users a taste of what it can do. Then, if they like what they see, they'll explore further and find ways to make the product even more useful.
In short, it's easier to have customers invest in your product if they have already used it and come to appreciate its value.
Salesforce and Product-Led Growth 
Inflation, economic headwinds, and quick-paced markets have presented organizations with intensifying challenges. But leaders can use a product-led growth (PLG) strategy to strike a balance between immediate needs and sustainable long-term growth.
What makes Salesforce uniquely suited to help businesses realize their PLG strategies is that it's not a point solution. Instead, it's a holistic cloud ecosystem with thousands of customers and years of data-driven research and best practices. 
To succeed at PLG, companies need to become easier to work with. For example, how easy is it to:
Enjoy your product?

Buy more of your product or upgrade?

Survey you and provide timely answers to your questions. 
PLG with and without Salesforce
Other key considerations are the right data and the right business process. Easy access to information and harmony across functions are keys to a successful PLG strategy. 
Let's take an example from Finance. 
You have a person in Finance look at Salesforce CPQ for quoting, and then they try to pull this information into a different system to analyze it. But if your organization's integrations go down, it would be virtually impossible to get a financial snapshot of your business performance, creating an unnecessary and all too common risk.
Salesforce offers a unified platform for executing your PLG strategy. Its multiple clouds give players across your organization a clearer view of what's happening, so they can proactively intervene to assist users on their journeys. 
Silos persist and present obstacles to PLG 
To drive the message of the fragmented landscape home, the 2022 Connectivity Benchmark Report found:
Data silos are a persistent challenge for 90% of organizations.

55% of organizations say it's challenging to integrate user experiences, up 7% from 2021. 

Over 35% of organizations' revenue comes from APIs and related implementations.

Organizations now have an average of 976 applications, an increase of 133 in the last 12 months, but only 28% are integrated. 
A Unified Cloud-Based Approach to PLG 
Salesforce offers customers multiple clouds, such as Service Cloud, Sales Cloud, Marketing Cloud, Community Cloud, Einstein (AI and automation), and Tableau, for visualizing the data stitched across each user's journey.
Salesforce PLG Example #1 
Salesforce integrates into your product's experience. Let's say you have a design software app like Canva. If a user is in your product and goes to settings to update their address or credit card information, that information would sync to Salesforce.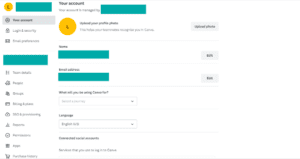 So, in essence, the customer can see the changes they're making in your product, and the people behind the scenes can see those changes happening in Salesforce, giving you a single source of truth. 
Salesforce PLG Example #2 
In this example, the user can't find what they're looking for. Salesforce chatbot can serve up self-service content to help them solve their problem or get more information to route the case to the right people.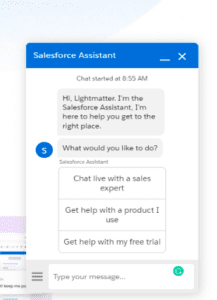 This data will be mapped to Salesforce, giving departments unmatched visibility into users' journeys and pain points, allowing them to tailor on-demand solutions and long-term experience enhancements based on multiple users' data.   
Salesforce PLG Example #3 
In this example, a user loves their SEO tool.
They're using a free version and have had a positive experience and now want to upgrade to access additional features. Instead of sending that person down a website rabbit hole. This user can get a pop-up from Salesforce Marketing Cloud that prompts them to make a purchase or serves them information about the next tier of their product.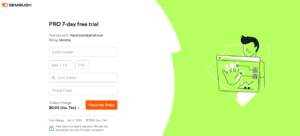 The user can amend their contract within the SEO tool. That change will reflect in Salesforce Revenue Cloud, creating a new contract with that user without disrupting their experience. 
Salesforce PLG Example #4
Let's say you're a customer using a product and you have a technical issue.
You pull up a chatbot and get assistance from Service Cloud. You're interacting with a chatbot inside the product without ever knowing it's Salesforce.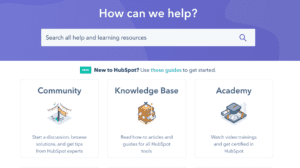 The chatbot helps create a case and directs you to a knowledge article while logging your case directly into Salesforce. It creates a record of every touchpoint, empowering departments to serve customers better and mitigate cases that can easily be self-solved. 
How to Approach Salesforce for PLG
There isn't a cookie-cutter approach for any one company. Ultimately, it's up to your organization to decide which approach works best for your budget, culture, and timeline. 
Crawl, walk, run, or the big bang?
At Neocol, we can help you with an incremental approach or a full-scale PLG project. Some customers want to put products behind a firewall and use Salesforce to create pop-up offers to different customers based on their usage, with those interactions being logged into Salesforce. 
Others want to enable their customers to upgrade from a free version to a paid version and want to create a new opportunity and quote inside of Salesforce CPQ so that they can track contracts and renewals more effectively.

In other words, it doesn't have to be all or nothing. It can be all, but it's up to your organization to decide where PLG will have the most impact. 
To assess that, it's vital to analyze your customer lifecycle from acquisition to retention and renewals to determine which PLG enhancements would impact your revenue, employee productivity, and customer satisfaction. 
Complexity is the PLG's greatest adversary.
The value of Salesforce is that you can consolidate your systems and sync them to serve each customer's experience more effectively,  instead of a large enterprise architecture with 100+ systems, which magnifies complexity, especially over time. 
In other words, different systems create silos and a fragmented experience.
Naturally, there are people behind the scenes who can make sense of the chaos, but that approach limits your company's ability to scale and adapt to rapidly-changing consumer behaviors.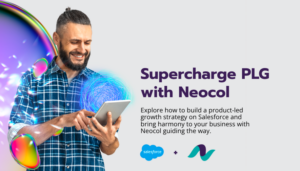 To learn more about how Neocol can help you tackle your PLG projects with Salesforce, get in touch and tell us your goals and vision for product-led growth transformation.