Business practices have changed over the years, leaving many companies to find Zuora is lagging in a fast-changing and increasingly complex business landscape.
Zuora is cloud-based billing and finance software for subscription management companies. But as time passed, there has been an increasing need for a tool to comprehensively track customer sales cycles, quoting, and billing processes — all under one roof.
The solution came when Salesforce, the world's #1 Customer Relationship Management (CRM) platform, introduced Salesforce CPQ and Salesforce Billing. A platform that makes it easy to manage subscriptions and billing.
As a result, it has become prudent for companies to consider migrating from Zuora to Salesforce CPQ. Migrating to Salesforce opens a whole world of possibilities while providing a unified view of the customer. Those who migrate to Salesforce CPQ can integrate other Salesforce products into their business systems and custom-tailor their tech stacks to meet their business needs. 
With this article as a guide, you can plan a successful Zuora migration, understand its best practices and avoid pitfalls when making this change. 
Reasons Companies Migrate from Zuora to Salesforce CPQ and Billing
Here are some of the reasons businesses migrate from Zuora to Salesforce Billing:
With Salesforce CPQ, you can easily map standard and custom fields, saving time and effort

Reduced complexity and risks related to customization 

Zuora offers limited B2B self-serve capability

Zuora has limited variability between order, billing, and revenue recognition

Salesforce offers more scalability options

Zuora's Service Cloud lacks integration between service contracts and entitlements.

Salesforce CPQ helps you generate a quote based on standard costs and apply discounts to those costs on your order form.
The Benefits of Migrating from Zuora to Salesforce CPQ
Despite some overlap in functionality between the two platforms, companies that migrate from Zuora to Salesforce Billing benefit in the following ways:
Detailed reporting and analytics
Salesforce offers detailed analytics and reporting capabilities, making your sales performance easier to understand and interpret.
Sales, finance, and operations-friendly interfaces
Salesforce gives users easy-to-understand visuals, simple controls, and easy navigation. This streamlines user access to the data they need to make informed decisions.
Enhanced efficiency
Salesforce helps to reduce errors and boost productivity by automating the quoting and ordering process, which leads to improved efficiency. 
Easy to maintain product catalogs
Managing product data and finding the information you need is easier with Salesforce, as an object represents categories and products while allowing for added or customized data mappings.
Integration with other Salesforce products
Salesforce Billing & CPQ integrate with other Salesforce products like Sales Cloud and Service Cloud, allowing customers to manage their accounts from one place.
Best Practices for Planning a Successful Zuora Migration
You face potential harm when your data migration is done incorrectly. It may lead to data loss or corruption. To be on the safe side, follow these best practices:
1) Be prepared
Winston Churchill's quote, "He who fails to plan is planning to fail," is relevant at all levels. A successful migration requires careful planning. Some questions to ask are:
What data are you moving from Zuora to Salesforce?

What is the structure?

What Salesforce features and capabilities are you looking for?
Making and sticking to these decisions will set you up to successfully switch to Salesforce without errors.

2) Have a backup plan
You must have noticed the "chat backup" prompt on WhatsApp. It pops up periodically, depending on your settings. WhatsApp keeps these chat backups if you lose your phone or want to reinstall the application. Many applications offer backup services like these to keep your data safe.
Likewise, when considering a shift from Zuora to Salesforce CPQ and billing, always have a backup plan in case something unexpected happens. This will allow you to quickly revert to the previous state, avoiding unnecessary losses.

3) Get to know your data
Before migrating, become familiar with what data you have stored in Zuora and its structure. This will help you determine which data to move to Salesforce and where to map it.
4) Make use of tools
Salesforce offers several tools for data migration that make it easier for you, including Salesforce Data Loader and Salesforce API. 
While it is crucial to use the right tools, you must also understand how to best use them. And practice patience to avoid messing up your data. 
Using an expert for help will make magic on your behalf so that you can spend your time on something more productive.
5) Communication with teams
The most effective way to maximize adoption is to keep all collaborators engaged. Talk to them about every step to keep them informed on progress and roadblocks.
6) Test and confirm
Effective migration requires thorough testing to help you avoid problems when you go live. This could include:
Analyzing different scenarios
Testing that all customizations and integrations are running perfectly
7) Educate your team
Your team will be more effective when you guide them with training, positive feedback, and shared goals. To create a productive team, ensure training and documentation are part of the migration process.
This will help your team understand Salesforce Billing and how it differs from Zuora. Taking this step will ease smooth progress and reduce confusion.
There's one last thing that will help you make your migration successful.
8) Consult a Salesforce expert
Berry Moise, a Project Management Professional, says, "work with a team that has done it before. An experienced team is very critical for assisting with the change. Find a team that knows both Zuora and Salesforce CPQ well so that they can help you make the most of the change."
Migrating to a completely different system can be exhausting and complex. 
Working with a Salesforce consultant like Neocol with your Zuora migration experience will:
Reduce the time spent on the process

Help safeguard your data

Give you expert advice on how to set up your migration for success

Ensure that your migration is successful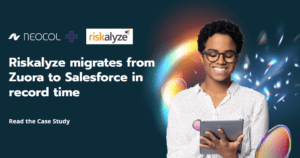 Learn how we helped Riskalyze achieve a successful Zuora to Salesforce Migration.

Step-By-Step Guide for a Successful Zuora Migration
There are a few steps involved in planning a Zuora migration to Salesforce CPQ and Billing. These depend on your current setup and your desired Salesforce setup.
For instance, if you are using Zuora's subscription model, you will need to replicate a corresponding Salesforce product model to migrate your subscriptions successfully.
Generally, the steps involved are:
1. Assess your current Zuora configuration
The first step is to determine the details of your current Zuora setup. You need to know:
The type of data stored

The data structure

Customizations

Your integrations
2. Set up Salesforce CPQ accordingly
As the next step, plan how you'll use Salesforce CPQ. Think of which data you'll move, the customizations you'll make, how you'll organize, and which capabilities you'll use.

3. Export your data
Begin your Zuora migration by using the Zuora API to export data into a Salesforce CPQ-compatible format. Use an ETL tool (Extract, Transform, Load) to extract data compatible with Salesforce.
4. Import data into Salesforce CPQ
Import the data into Salesforce CPQ. This typically involves using the Salesforce Data Loader tool to import data into Salesforce objects and fields.
5. Test
Who buys new clothes without trying them on to see if they fit? No one!
The next step is to test that the data you imported is correct. Test different settings and ensure that all customizations and integrations are working smoothly.
6. Go live
After you've validated all the data and everything is working as you hoped, move your external systems to Salesforce CPQ.
Ta-da! Your Zuora migration is complete.
How will you go about your Zuora migration to Salesforce CPQ and billing?
Now that you are aware of the best practices for a successful Zuora migration and how to go about the process, it's time you answer one question:
What will be your first step?
Depending on the specifics of your setup, there may be extra steps to the general process not outlined in the steps above.
For this, you'll probably want to use an expert to help you achieve your goals. We recommend trying Neocol.
Neocol is a Salesforce partner that assists the world's most innovative B2B companies in optimizing their subscription management and billing processes. 
The results?
Gain a competitive advantage

Improve cross-functional transparency

Increase customer satisfaction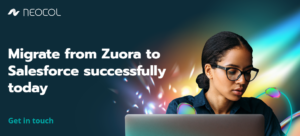 So go on, connect with Neocol and migrate from Zuora to Salesforce successfully today.
Related Reading